Hello again. I will try to keep this blog fresh and active by adding new how-to articles and tutorials every few days, or until I have the steam running. Today I would like to show how to use My Video Converter to download and convert Facebook videos.
Why download Facebook videos?
It so happens that Facebook is now in the center of lives of most people on Earth. It stores triglobytes of information, and in last few years it decided to take video world by the storm. They did "go live" thing, when you can easily start streaming live whatever you're doing, and friends will be watching. Most people have experienced this one way or another, probably tuned in for some live broadcast. This is very popular with clubs and festivals. Why not have this static camera sit and film and broadcast, while fans there are fully ecstatic.. The problem with that is FB live only uses 66kbps audio, which is "music preview" sound quality you get when checking out some tune in an online store. Imagine, good quality is 320kbps, which is literally at least 5 times better..
And yes, some of us sometimes turn off our FB accounts. I know my wife does it every few months, then resuming with a fully new account... She has those imaginary demons and stuff like that.. I don't do this, but whenever she does, I always help her download all the live videos she did in the few months of activity. There are other reasons to download and backup your FB video library. Like the fact that tomorrow FB may not exist.. Who knows.. Or maybe some hackers will break in and delete all the media stuff, like videos and images... Just for fun.. And you won't ever get those back.. So it's useful to backup your online social video presence to your laptop or desktop, or maybe to the cloud...
Some videos may or may not disappear a few minutes after being shared, maybe for copyright reasons, maybe for any other nudity and stuff... With MyVid you can quickly download those videos.. Also stuff that's happening live is always available for at least a few minutes after broadcast is over. If streamer sets video to be removed, it'll never be seen again - download it with MyVid right after live broadcast ends..
How to download video from Facebook?
It's very easy to download any FB video, or even convert it to mp3, using My Video Converter online. Here are the essential 3 steps required to get stuff going:
Copy URL address of the Facebook video you'd like to download.
Open MyVid and paste video link into the search box, hit GO
When download options show up, select desired format and download FB video
As you can see, it's very easy to download your FB video to save to your device using My Video Converter. Hint: in this case for fastest download use More Video section with 720p option - best quality and fastest download. And it's not possible to do with other sites, we are the only site that muxes video and audio (separate tracks) from Facebook for best quality video download.
How to copy Facebook video page URL?
It's very easy to copy the link of any FB video. Simply right-click on the video and select Copy Video URL at current position option. You can also tap-and-hold on the video until menu shows up, the select Copy Page URL option. Here's what I do myself (first option):

Pardon my choice of video, I just like Melania a lot in her extremely appealing business lady wear.. Plus there's the clown of course.. If you're interested, here's the link to the video I picked for this tutorial. Oh yeah, you can always copy page URL from your internet browser or FB official app. For that you can simply hit Share button, in there always find 'Copy URL address' or similar option.
How to paste video URL into MyVid search box?
On desktop or laptop you'd need to right-click in the white search box on page top, and in context menu select "Paste". You can also click in the search box and press CTRL+C to paste video URL from the clipboard. On mobile devices tap in the white box, then hold your finger there until menu shows up, select Paste (icon) from there.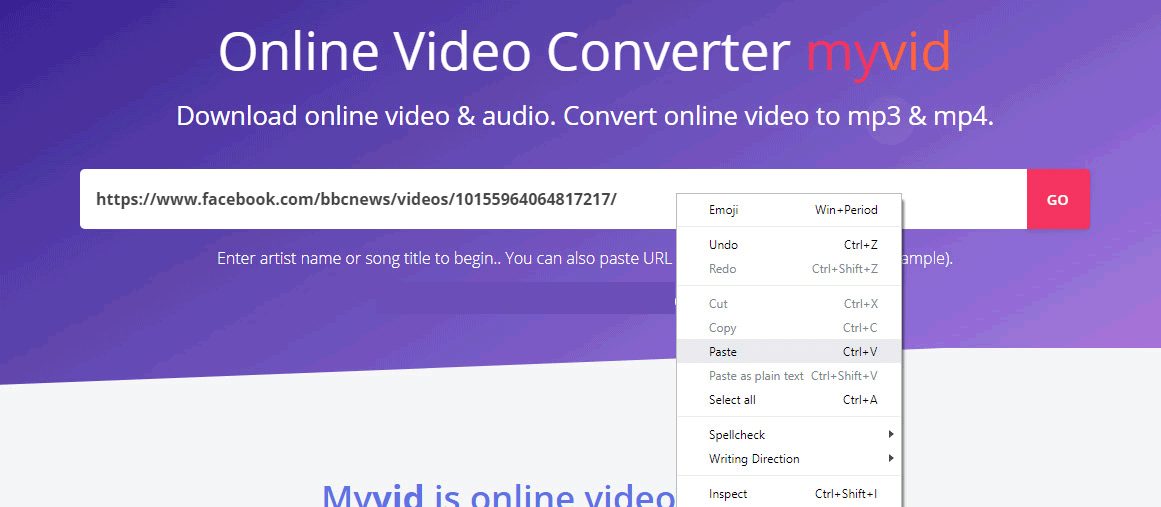 This is how it looks for me. I am on the desktop, it's easier to write on desktop or laptop, so all of my instructions start with that version. Although as of late I've been noticing people use mobile devices for video download a lot too.. I am guessing, in some countries this phone would be all the tech a person would own.. I am blessed with desktop and laptop and tablet.. Many people only have 1 old smartphone...
How to download FB video file?
After pasting the video URL, hit GO and wait for download options. Hint: go for 720p for faster download and better video quality. That's what I am doing in the screenshot below...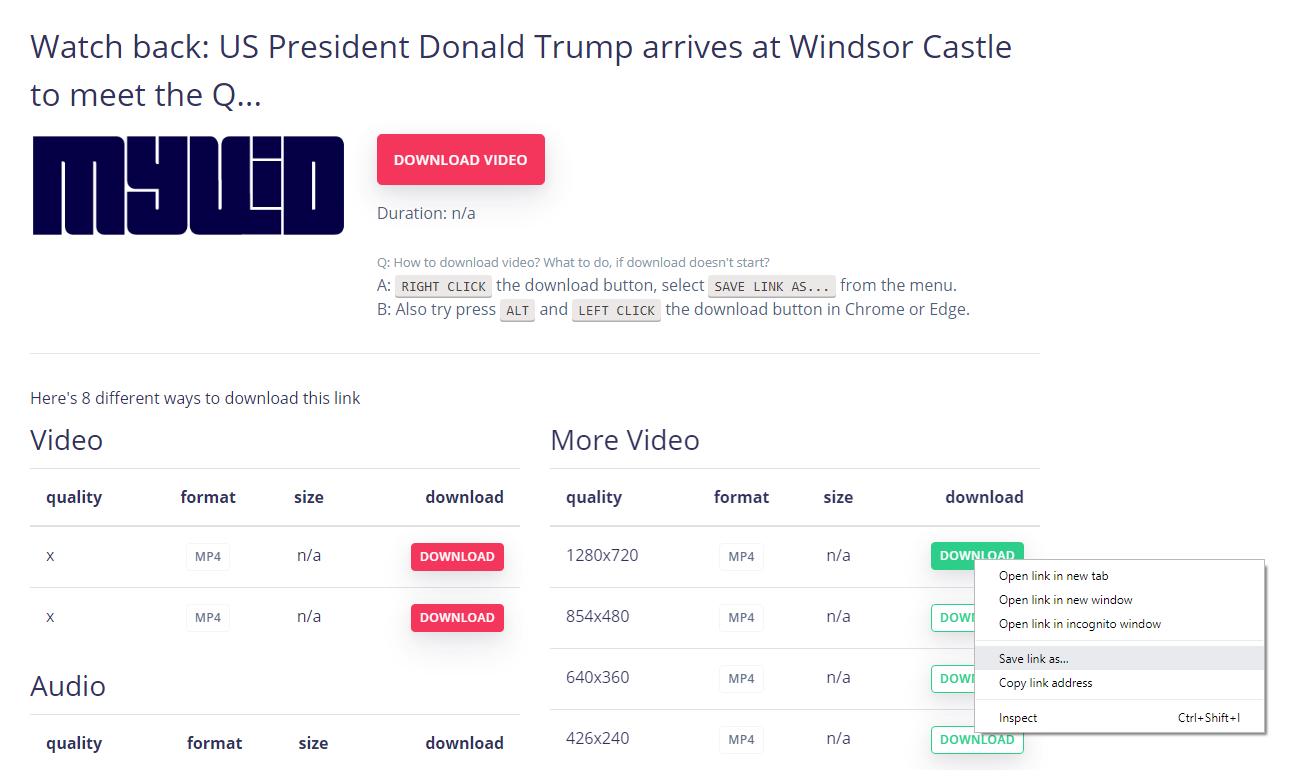 Also please keep in mind, many sites like Facebook obfuscate their video file names, well, because noone really cares what the file is called while it is streaming.. But saving it to your laptop you'd need to name file something remember-able, right? That's why right-click + save link as is the best strategy in this situation, cause you actually get standard OS prompt to save file where you can change file name right there.. Just keep file extension in tact, if it's visible there...
Conclusion
As you may have seen, it's really easy to download Facebook videos using MyVid. Try it out, if it's not up to your expectations - simply don't use it and forget about it. Of course many users will consider doing this a risk to their computer... Well, I guarantee there is nothing malicious on MyVid. As a matter of fact, there's barely anything buy Jquery... Haha.. In any case, enjoy MyVid, the best Facebook video downloader online.