Editied Aug 17 :: in the last 2 weeks much has changed. I have realized that original review was not about the correct website. But it still applied, as it's a universal way of getting video to download using browser Inspect tab. On the other hand, MyVid can now download Verystream videos, it's checked and guaranteed to work! Just keep in mind they throttle bandwidth, so it may take a bit longer than usual to download videos from Verystream.
Hi. Yes, I must admit, it is first time I'm running into strong resistance from a website that doesn't want to have its videos downloaded. And so is the case with Verystream. I am not exactly sure which Verystream site is popular now and which one is original, there are quite a few. I will assume .it is it, is the right one. And so this tutorial talks about downloading videos from verystream using MyVid or your internet browser (Inspect tab, to be specific).
What is Verystream? Why does it have movies?
I am not familiar with the service, but it seems like they are advertising movies on front page. Different stuff, mostly SD quality, while HD is advertised on every corners.. In any case, it seems that Verystream doesn't host all of their video on their own servers, or if they don't host anything, then they proxy a lot.. But we don't care, right, how video is stored and where it's coming from..
Also site has lots of movies on it. Mostly movies. How can it be, is it legal? No, it's probably not. But site itself doesn't host all the movies listed, they just provide a link to where it actually is, and provide easy to use video player online that loads the URL and plays the movie for you..
Download Verystream video using Myvid
Well, while you don't care, we do, and it happens that Verystream is a bit stubborn about letting their videos go, so they tied up the stream to visitor's IP address, basically rendering MyVid useless for this type of downloads, until we get (and use) our own proxy downloader.. And thus until then we'll have to show you how to download Verystream video using just your internet browser, such as Chrome or any other one. Also this process does involve using tools that may look bizarre or simply not exist on mobile devices, it is best to perform this process on desktop or laptop.
Download Verystream video using Chrome browser
Here comes the actual instructions. As you may or may not know, anything that comes into your browser can be extracted and saved on your device for offline access. It applies to media as well, such as pictures and videos. And so downloading Verystream videos becomes a task of locating that video in browser's log of events.. Here's how to do that.
Step 1. Open Verystream and pick some video to download
Open that video and prepare to start playing it, but don't start it yet. Now press CTRL+SHIFT+I or right-click on the page and select Inspect from the context menu. A special browser window opens up that has several tabs and is full of information. It is very useful and can help with many video and audio downloads. But right now we will switch to Network tab. Also my Inspect is disconnected from browser and shows up as a window. Sometimes it can be attached to the browser window, - it's more comfy to have it detached..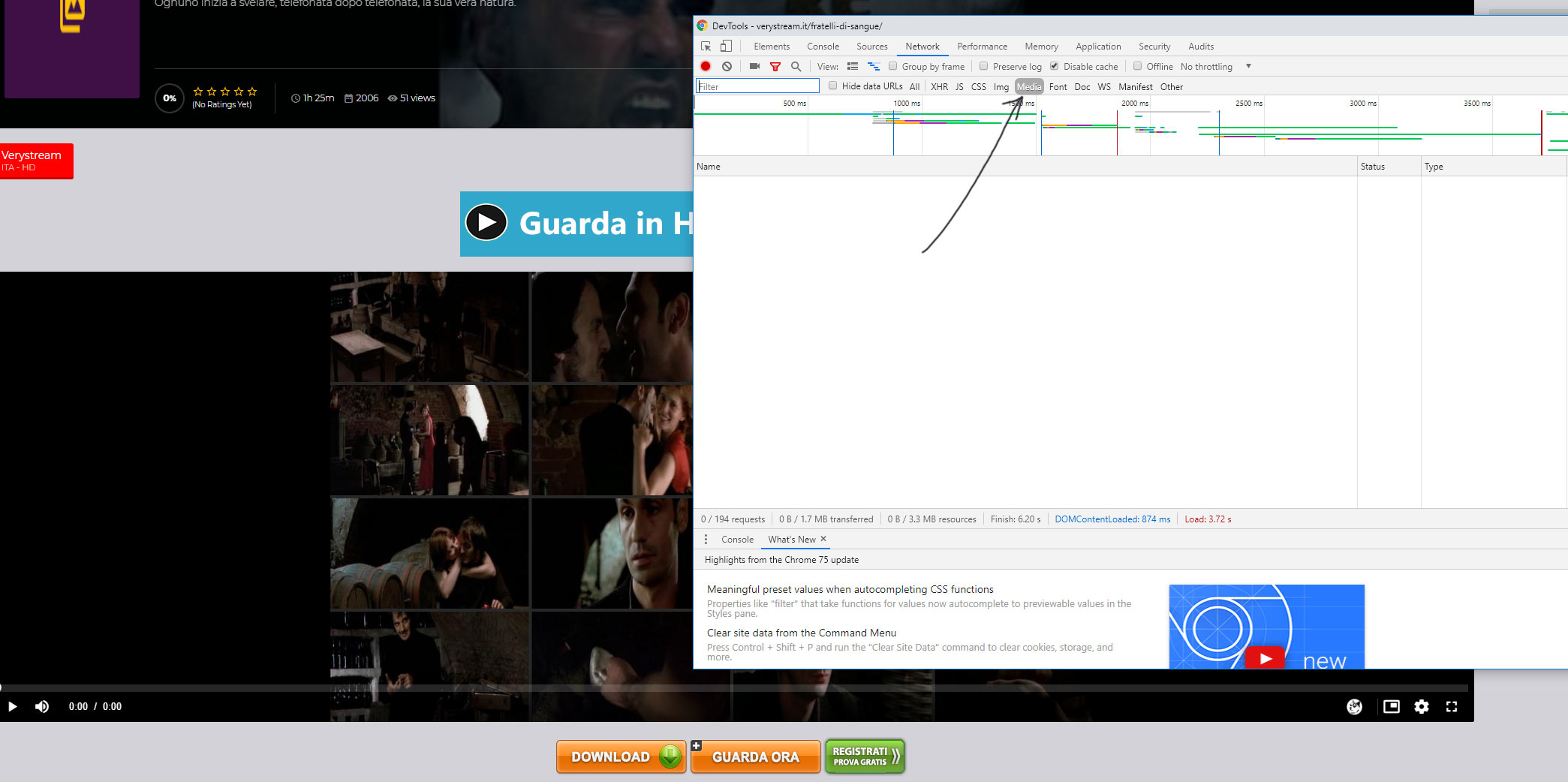 As you can see I have also clicked that MEDIA filter and am ready to start playing the video. In theory video URL address should show up in the Inspect window.
Step 2. Find video stream URL address and copy it
Now start the video. As soon as you get done with popups and all, come back to the Inspect tab and voila, it has several records for me, but maybe will only have 1 for you, in any case, the bottom one is the one you want!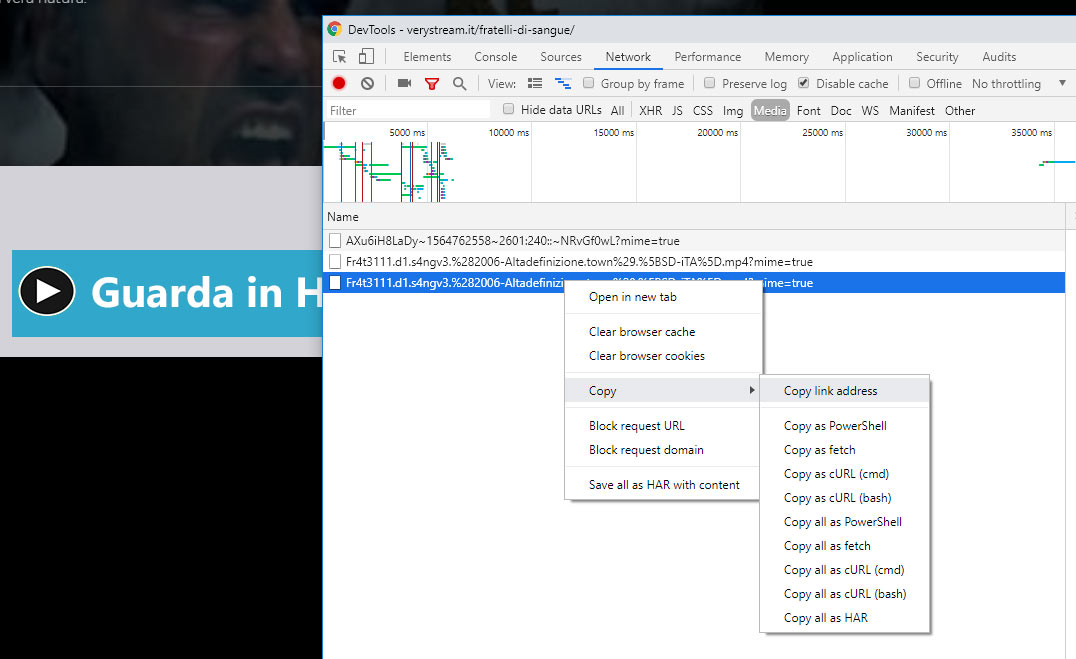 To copy the URL, click on the record in the list, then right-click it and thru the menu find "Copy Link Address" or similar option.
Step 3. Open copied video link in new browser window
I mean, now you already have video URL in your clipboard, so if you are using any downloaders like flashget or jdownloader - they should have already detected the link and started download. If not - open another browser window and paste video address into the browser address bar, and open it. Here's what it looks like for me: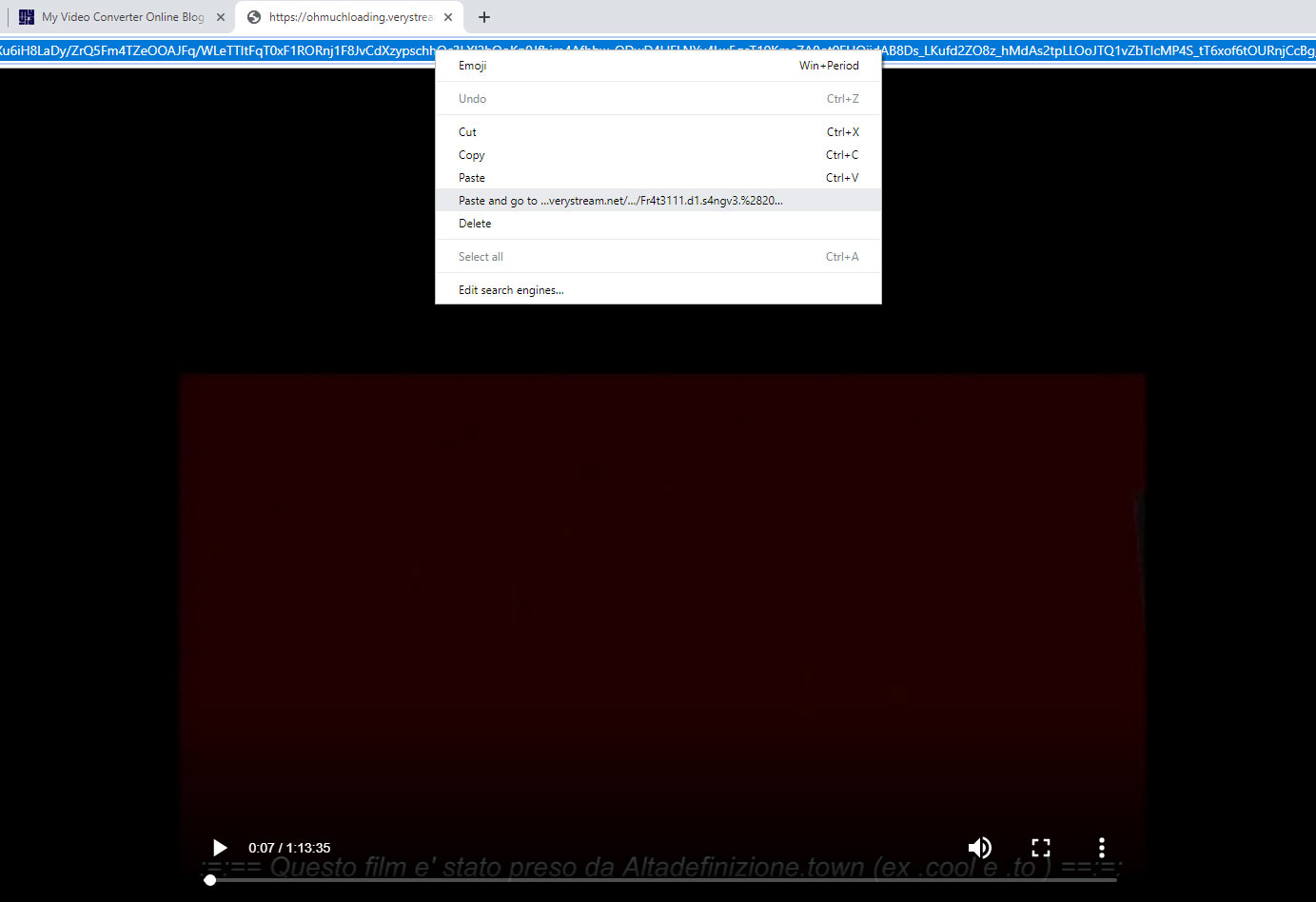 This step not only prepares us for easy video download, but it also confirms that the link we copied actually works. If you try to use this same link on a friend's computer, it won't work, cause it was generated specially for you.
Step 4. Download Verystream video to your device
That's it. Now all you gotta do is right-click video and select Save As from the menu. Or you can also tap and hold it, if you are mobile, and select Download Link from menu when it opens up. Here's how I did it on my desktop: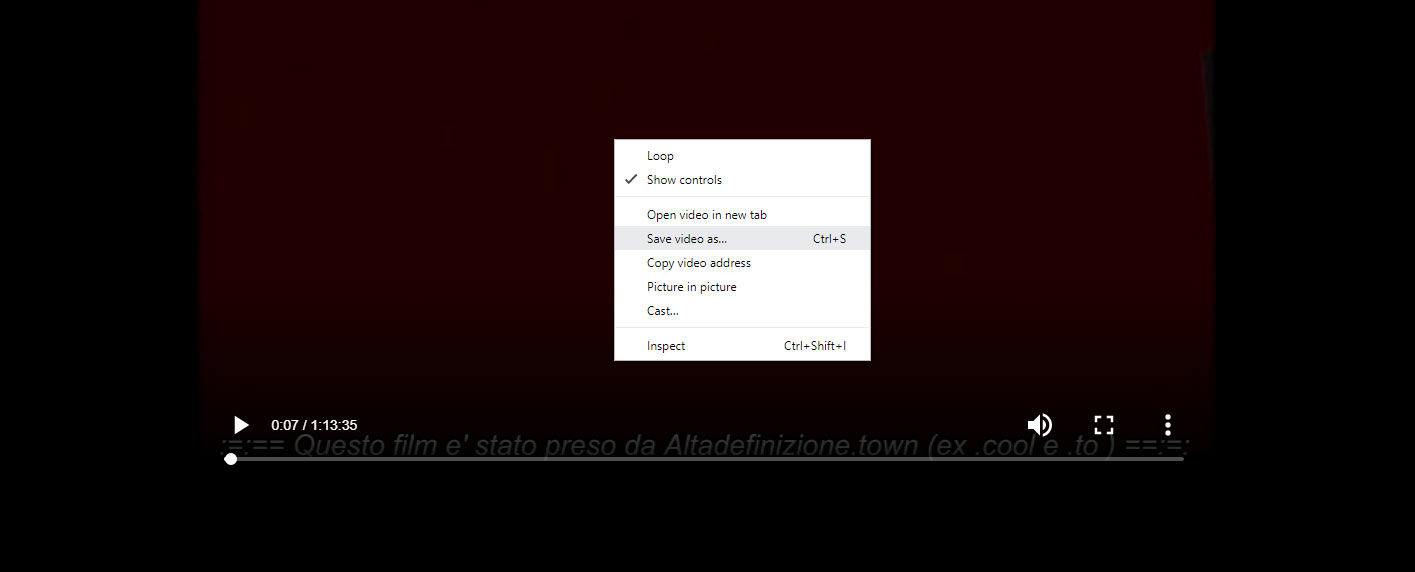 The following download took about 15 minutes, and I had this weird French movie in poor quality ready to be viewed..
Conclusion
MyVid isn't the best tool to download Verystream video, but at least we can provide into and teach you how to do it on your own. And this article does exactly that. It shows how to use internet browser at your disposal to download video from Verystream without any problems and quite fast.