Today we shall touch upon a hot subject as of late. It is how to download Instagram videos. We will also look into extracting audio and converting Instagram videos to mp3. We will work with the following URL - https://www.instagram.com/p/BroUypNByo_/ - it's basically address, link to the post that is needed for us to look it up and give you download options.
How to copy Instagram video link?
Or rather, how to copy Instagram post link. Any video is inside that post, and post has the link. Copy the link, give it to us, and we'll help with the download arrangement. To easily locate post link on Instagram, hit Share icon on the post in your app, and in the standard mobile share menu select Copy Link. We will assume you are mobile, since Instagram is so much better on your smartphone, compared to on desktop... Yes, desktop is still useful to look up hashtags and all those trends, but for personal use - mobile+app+smartphone. And so with the post link safely copied into device clipboard, we can continue to next part.
How to download video from Instagram?
Now it's quite easy. Open My Video Converter and locate the white search box on top of the page. I do have desktop screenshots, since it's easier to write these tutorials on desktop, plus it's annoying to make screenshots on mobile devices. All the context stuff (menus) disappear before screenshot is taken.. So... Here's how I did this on desktop, and you can do this on your smartphone..
1. Paste Instagram post link into Myvid search box
On desktop right-click in the searchbox, select Paste. Mobile - tap in the white box and hold until menu shows up, select Paste option. This is what it looks like on my screen: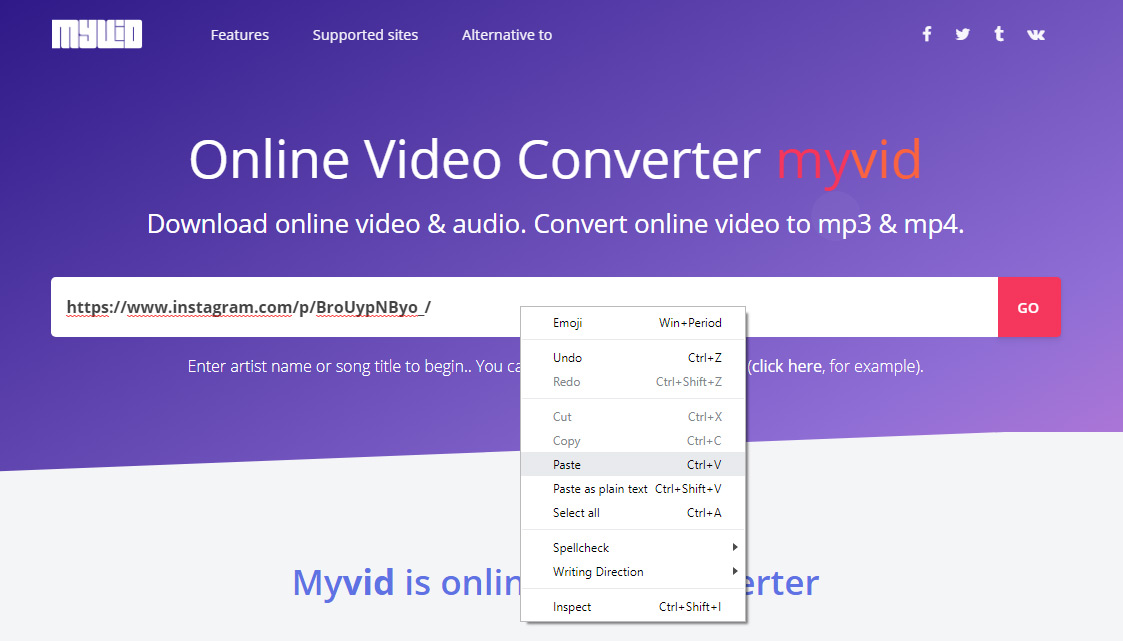 2. Hit GO and get download options, that easy
Now we simply press or click or tap the GO button, and moments later screen refreshes with download options for this video. Select the one you like and go ahead, download. Usually there will only be 2 options, since Instagram only keeps 1 video format, and we offer mp3 converter for Instagram, so there's the 2nd download option.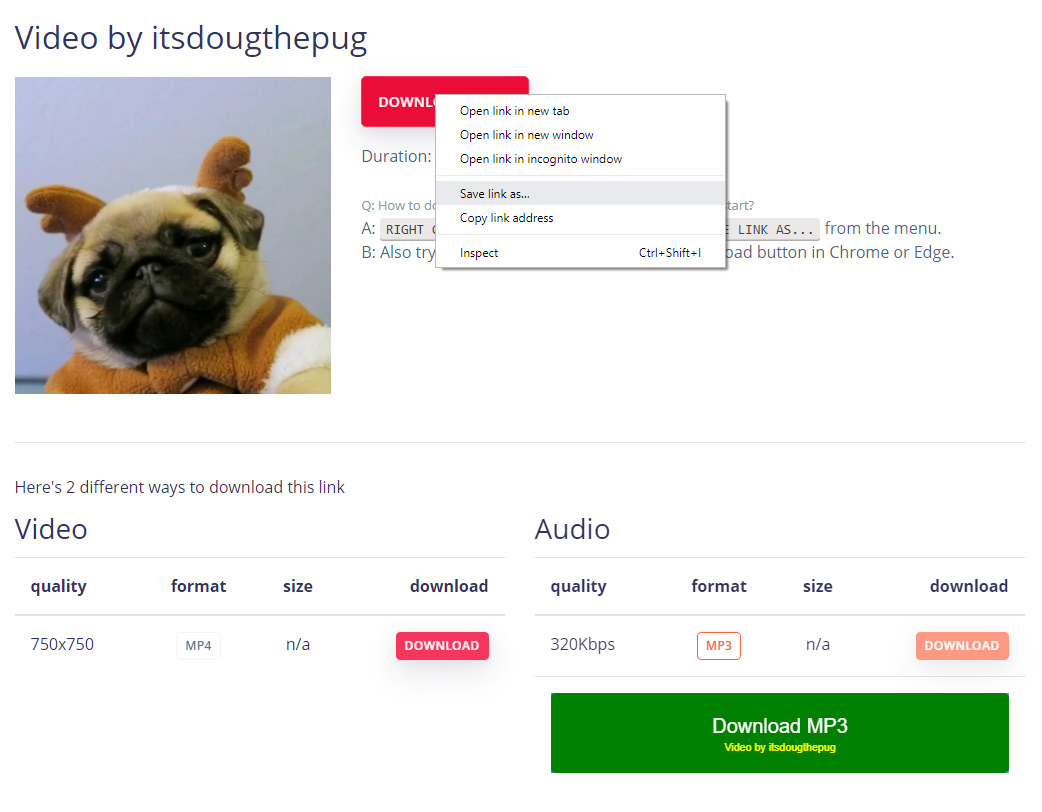 3. Convert Instagram video to mp3 if desired
Now you can also convert this video to mp3. Music side of Instagram is actually on the rise, there are many edits and cuts and simply parts of new songs from Artists, etc, etc. So Instagram converter is a useful tool now. And My Video Converter is exactly the right pick for the job. Simply hit Download Mp3 button and Instagram video will be converted to mp3 with following download to your device. Easy!
Conclusion
It is quite easy to download videos from Instagram using our amazing video downloader online. Try it out, you will definitely like it.